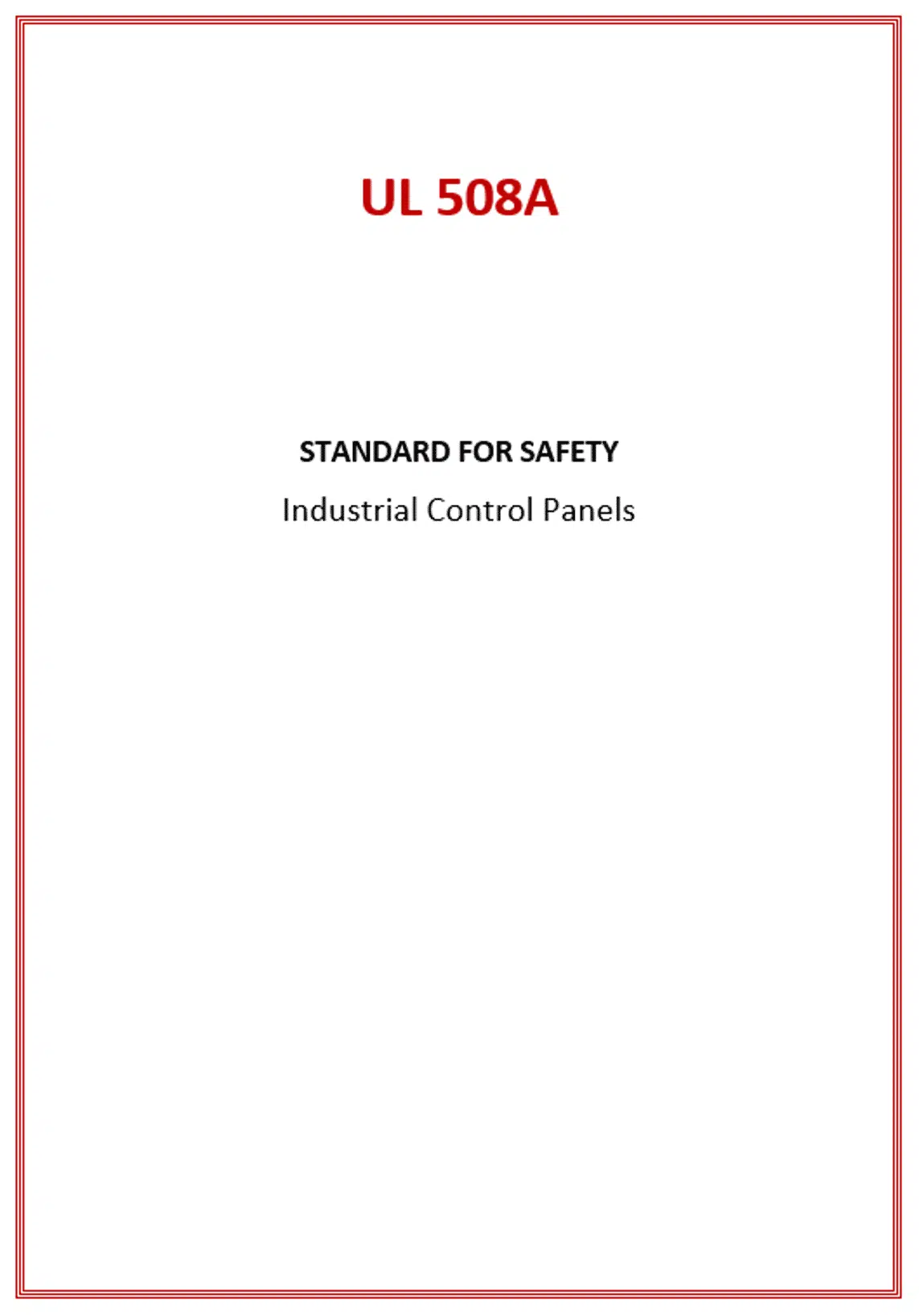 In August 2020, an updated version was released with a few changes summarised hereafter.
Reference to Table 28.1 and/or 38.1; 41.1, 42.3.1: in Section 41.1 and 42.3.1 references to Table 28.1 and Table 38.1 have been adjusted.
Emergency-Stop in Standard Panels: even though some panels were not Control Panels for Industrial Machinery, but they were panels of a different type, they were supposed to follow the rules stated in the section for Control Panel for Industrial Machinery just because an E-stop was provided. This point has been very confusing. Therefore requirement f) has been added:
f) A emergency stop device, consisting of an actuator (providing mechanically held latching means) and contact block (s), and an emergency stop unit (that receives inputs from multiple emergency stop devices) shall comply with the requirements in the Standard for Low-voltage Switchgear and Controlgear – Part 5-5: Control Circuit Devices and Switching Elements – Electrical Emergency Stop Device with Mechanical Latching Function, UL 60947-5-5.
Update requirements for 1000 V: the scope of UL 508A permits industrial control panels rated up to 1000 V; however, no other requirements in UL 508A such as electrical spacings, overcurrent protection, etc., have been revised and updated to address circuit rated up to 1000 V. Therefore 10.2, Table 10.2, 31.4.1 (a) , 50.1, 66.6.1, 75.6.2, 78.1, 98.3.1, Table SB4.1 have been updated to cover requirements needed for 1000 V. Furthermore new Table 10.1 A "Minimum required spacings in branch circuits rated 601 – 1000 V" has been added.
Revise spacing requirements applicable to the receptacles, attachment plugs, and inlets: some UL Listed plug and receptacles type products, inlets and attachmnet plugs evaluated to UL498 and cable assemblies evaluated to UL 2237 and UL 2238 are evaluated to spacing requirements smaller than the ones alllowed by Tables 10.1 and 10.2 for industrial control panels. This leads to a problem meeting the UL508 A spacings between live parts and grounded metal such as when they mounted through the panel enclosure as these products are not designed to meet the larger spacings of UL508 A. Therefore revisions to 28.2.5 have been included and new requirement 10.9 has been added to permit the spacing requirements of UL 498, UL 2237 and UL 2238 to be used for all connector products when they are installed in industrial control panels:
10.9 The spacings for connectors, receptacles, attachment plugs, inlets and cable assemblies described in 28.2.5, 28,6.1, 28.6.6 and 28.7.1 provided in a feeder circuit, branch circuit or control circuit and rated 600 V or less shall be a minimum 3/64 inch (1.2 mm) for a device rated 250 V or less, and a minimum 1/8 inch (3.2 mm) for a device rated more than 250 V, between the following:

a) Uninsulated live parts of opposite polarity;

b) An uninsulated live part and a dead-metal part that is likely to be grounded or exposed to contact by persons when the device is installed as intended, including a metal surface on which the device is mounted in the intended manner or a metal face plate used with a flush receptacle.
Revision to 30.1.8 for fused disconnect switches: the current requirement in 30.1.8 for disconnect switches rated more than 600 A refers to 30.1.4, which is a requirement for manual motor controllers, instead of referring to UL 98 which is included in 30.1.3. Therefore 30.1.8 has been revised to refer to 30.1.3 instead of 30.1.4.
Revised definition for low-voltage limited energy circuit: the requirements in 43.1.2 and Table 43.1 were recently revised to increase the maximum DC voltage to 60 V DC. However, the voltages included in the definiton of low-voltage limited energy circuit in 2.33 were not changed. Therefore the voltages referenced in 2.33 have been revised to be consistent with the requirements in Section 43 of UL508 A.