Canada, is a Federal State consisting of 10 Provinces and 3 Territories. Each province or territory has jurisdiction over safety in workplaces.
Moreover there are "Federal" laws, which means national laws.
Machinery safety is mainly governed by the Provinces (or Territories).
At the federal level (Canada Labour Code) the employer's general obligations are invoked as: please "ensure that the machinery, equipment and tools used by the employees meet the prescribed health, safety and ergonomic standards and are safe under all conditions of their intended use";
The safety at the provincial level is ruled by the "Occupational Health and Safety Regulation" or OHSR.
Each Province or Territory has its own OHSR or OHS Act.
The electrical safety is governed at the federal level (Federal Electricity Act) and especially at provincial level: each province writes its own "Electrical Safety Act".
Ontario is the most "strict" province.
It has is own version of the C.E.C called "Ontario Electrical Safety Code" and purchasable on the ESA site (Electrical Safety Authority).
It is the only province requiring a "Pre-Start Health and Safety Review" of the machine, including also the "mechanical safety". Furthermore, it requires that all the electrical products are "approved".
If you are a machinery manifacturer who wants to export to Canada, the main standards to follow are listed below:
– C22.1 or Canadian Electrical Code or CEC, about the basic safety principles;
– C22.2 N°14 "INDUSTRIAL CONTROL EQUIPMENT" for the electrical panel compliance;
– C22.2 N°286 "INDUSTRIAL CONTROL PANELS AND ASSEMBLIES" again for electrical panel compliance;
– From 2017 is also expected the release of the C22.2 N. 301 "INDUSTRIAL ELECTRICAL MACHINERY" for the conformity of both the panel and the board machine.
GT Engineering offers consulting and training for machinery manufacturers on the main canadian technical standards for electrical safety. Please, do not hesitate to contact us.
Safety of Machinery in Canada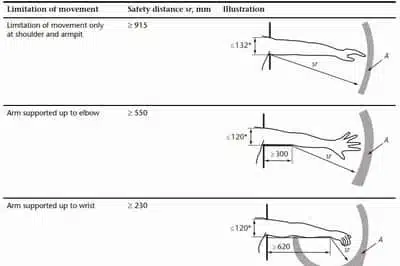 Machinery safety in Canada is dictated by the Z432-04 standard.
It applies to New Machinery (as do all regulations related to the Machinery Directive),
As with machinery safety regulations in the U.S., they are inspired in Canada by the regulatory architecture of the Machinery Directive, including functional safety.
There are of course differences, such as the distance of a hazard to the reach of the arm, which for EN 13857 is 850mm, while in Canada 915mm is required.