Chapter 10 of the Standard provides the design verification, which is intended to verify compliance of the design of an assembly to the requirements. The original manufacturer has the responsibility to perform this verification. The Standard details how to perform design verification and the results the original manufacturer shall obtained.
Design verification shall comprise the following:
a) Construction
Strength of materials and parts;
Degree of protection of enclosures;
Clearances and creepage distances;
Protection against electric shock and integrity of protective circuits;
Incorporation of switching devices and components;
Internal electrical circuits and connections;
Terminal for external conductors;
b) Performance
Dielectric properties;
Verification of temperature rise;
Short-circuit withstand strength;
Electromagnetic compatibility;
Mechanical operation.
The data used, calculations made and comparison undertaken for the verification of assembly shall be recorded in verification reports.
The impulse withstand voltage and the power-frequency withstand voltage are made in order to verify the resistance of the assembly to overvoltages due both to natural cases (lightning) and incorrect operation.
The verification of temperature rise allows to check that the assembly and its circuits are able to carry their rated currents under specified conditions, taking into consideration the ratings of the components, their disposition and application.
The short-circuit withstand strength allows to verify that the assembly is capable of withstanding the thermal and dynamic stresses resulting from short-circuit currents.
The electromagnetic compatibility allows to check that the assembly neither disturbs the environment nor is negative influenced by the environments itself.
The design verification could be done, according to Table D.1 of EN IEC 61439-1, through the following methods:
– Testing;
– Comparison with a reference design;
– Assessment.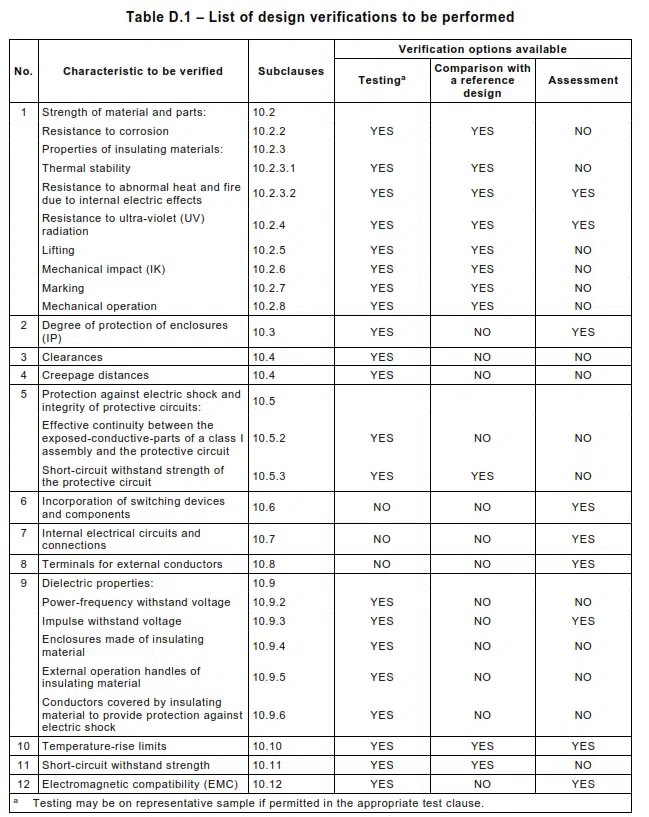 Safety in Collaborative Robotics
There is no "Collaborative Robot". That is one of the first statements you hear from people working in Collaborative Robotics. The reason is because...