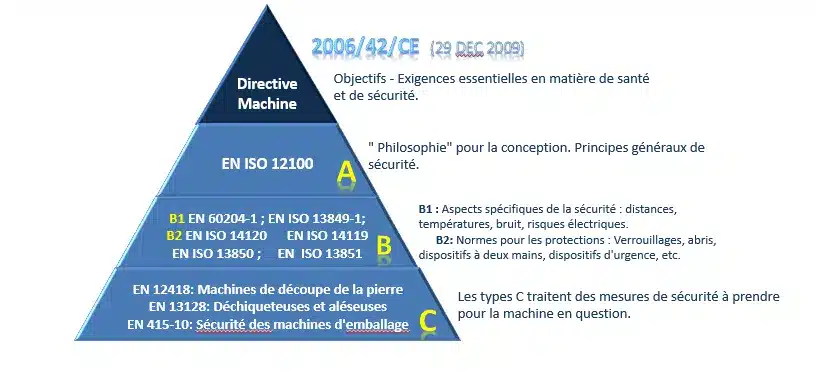 Standards in Europe date back to the late 1800s. The International Electro technical Commission (lEC) was founded in 1906 to establish safety specifications for energy and electrical products and protect consumers and the environment. lEC standards are prepared with consultation from technical committees (TC) in over eighty countries. These committees have representation from many interested parties, including, but not limited to, manufacturers, authorities, notified bodies, and consumer groups. Another objective of the lEC is to provide a common reference for international trade through standards. This goal of one set of universally recognized standards is fast becoming a reality for worldwide product acceptance.
The concept of European Conformity (CE marking) revolves around European harmonized standards as the minimum requirements for product design and assessment. Strict adherence to these technical specifications should be the focus of all designers and manufacturers. Manufacturers can and should do more than the standards require and certainly should not do less.
The European Commission mandates the creation of standards to support the essential requirements (ERs) of the directives. A standard is considered harmonized at the time of announcement which is published in the Official Journal of the European Communities (OJEC). Compliance with the harmonized standards will, in most cases, ensure a product's conformity with the essential requirements of the directives. Adherence to European harmonized standards is the only proven and universally accepted method of showing conformity with the ERs of the directives. Properly applying standards produces a "presumption of conformity."
European standards are clearly the main path toward conformity. Although use of European standards is voluntary in one sense, European harmonized standards have become the technical governing rules and are in reality the obligatory way for manufacturers to reduce unnecessary risks and to meet the EU directives. In practice,
only published European harmonized standards, such as ENs (EN = European Norm), should be used to show conformity. European harmonized standards (ENs) offer the simplest means of meeting the essential health and safety requirements (EHSRs) of the directives.
Harmonised Standards are divided into three categories: A, B and C.
Basic safety standards (type A). These fundamental standards give basic concepts, principles for design, and general aspects that can be applied to machinery; The type A standard ISO 12100 specifies the principle strategy for safety of machinery. Risk assessmentand adequate risk reduction by an iterative three-step method are the imperative measures to design a machine to achieve a level of tolerable risk.
Generic safety standards (type B). These standards deal with one safety aspect or one type of safeguard that can be used across a wide range of machinery. According to ISO 12100, type B standards deal either with one safety aspect (type B1 standard) or one type of safeguard that can be used across a wide range of machinery (type B2 standard). Type B standards are intended to support the principle strategy from ISO 12100 in order to:
— help determine if a hazard exists, for example, ISO 13857, Safety of machinery, Safety distances to prevent hazard zones being reached by upper and lower limbs;
— provide concrete information/measures to perform risk reduction, for example, ISO 14120, Safety of machinery, Guards, General requirements for the design and construction of fixed and movable guards.
B1 Standards. Type B1 standards deal with particular safety aspects (for example, safety distances, surface temperature, noise) and define by data and/or methodology how these can be addressed. Type B1 standards can be used directly by the designer/manufacturer or by reference in (a) type C standard(s) including, where relevant, means of verification. These apply to particular aspects, such as surface temperatures and safety distances. Some B1 examples are EN ISO 13849-1 (Safety Related Control Systems), and EN 60204-1 (Electrical Requirements of Machinery).
B2 Standards.

Type B2 standards provide the performance requirements for the design and construction of particular safeguards (for example, two-hand control devices, interlocking devices, pressure-sensitive protective devices, guards). Type B2 standards can be applied either directly by the designer/manufacturer or by reference in (a) type C standard(s). Together with those performance requirements, type B2 standards specify, where relevant, means of verification.

These apply to particular safety devices or components such as EN ISO 13850 (Emergency Stop Systems). For EMC, the generic standards are grouped by function and environment, such as products for use in heavy industrial areas.
Machine safety standards (type C). According to ISO 12100, type C standards provide detailed safety requirements for particular machinery or group of machinery, where the term "group of machinery" means machinery having a similar intended use and similar hazards, hazardous situations, or hazardous events. Type C standards are machine specific: their scope is determining the limits of the machinery and the significant hazards covered. Type C standards are written by a team of technical experts (in particular, from machine manufacturers and representatives from health and safety bodies) knowledgeable in the machine design (intended use), the practical use of the machine, the accident history and health records, available risk reduction techniques, and the legal frameworks in which the machine is intended to be used (placed on the market). Examples of Type C standards are EN ISO 11111 series for Textile Machineries or EN ISO 16090-1 for Transfer Machineries and Machining Centres.
There are different kinds of documents in ISO used in the context of machinery safety standardization:
International Standard: contains normative and informative safety requirements, written primarily for machinery suppliers. Includes three types:
– Type A;
– Type B1 and Type B2;
– Type C.
Technical Specification (TS): contains requirements for provisional application on a particular machine or system, written primarily for machinery suppliers.
Technical Report (TR): contains guidance information, written primarily for machinery suppliers and standard writers. TRs contain information (advisory) which is not normative (required).
Guide: contains informative guidance information, written primarily for standards writers.
Safety in Collaborative Robotics
There is no "Collaborative Robot". That is one of the first statements you hear from people working in Collaborative Robotics. The reason is because...