3.1.1 Active opto-electronic protective device AOPD: device whose sensing function is performed by opto-electronic emitting and receiving elements detecting the interruption of optical radiations generated, within the device, by an opaque object present in the specified detection zone (or for a light beam device, on the axis of the light beam). [SOURCE: IEC 61496-2:2013, 3.201]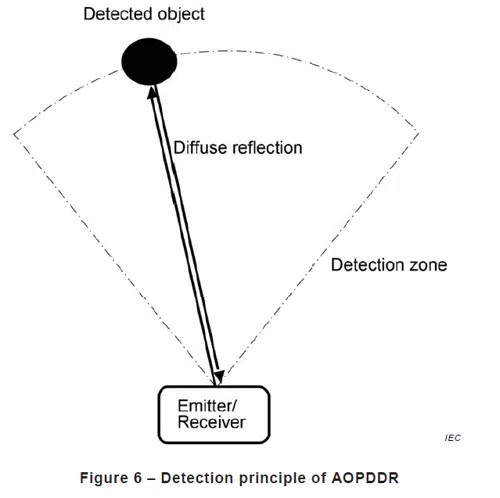 3.1.3 Active opto-electronic protective device responsive to diffuse reflection AOPDDR: device, whose sensing function is performed by opto-electronic emitting and receiving elements, that detects the diffuse reflection of optical radiations generated within the device by an object present in a detection zone specified in two dimensions. [SOURCE: IEC 61496-3:2008, 3.301]

3.1.4 Blanking: optional function that permits an object of a size greater than the detection capability of the ESPE to be located within the detection zone without causing an OFF-state of the OSSD(s).

3.1.7 Electro-sensitive protective equipment ESPE: assembly of devices and/or components working together for protective tripping or presence-sensing purposes and comprising as a minimum – a sensing device; – controlling/monitoring devices; – output signal switching devices.

3.1.24 Muting: temporary automatic suspension of a safety function(s) by safety-related parts of the control system.
Safety in Collaborative Robotics
There is no "Collaborative Robot". That is one of the first statements you hear from people working in Collaborative Robotics. The reason is because...