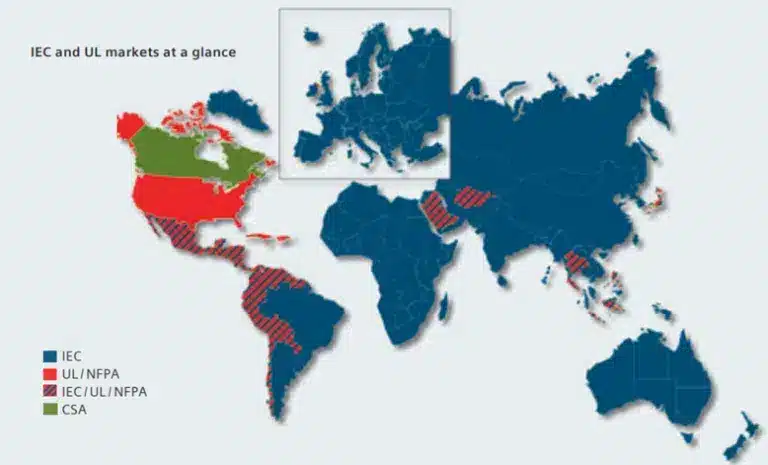 The world of electrical installations is not always straightforward.
Working on an international project electrical engineers are often bewildered by the extensive amount of electrical standards and wiring regulations which determines their decisions.
The world can be divided in two areas for what concern electrical standards: NEC countries and IEC countries.
IEC 60364 is a collection of documents that define fundamental principles, practices, and performance requirements which reflect the European concept of wiring and distribution systems.
The NEC is a set of specific rules intended to be used for design, installation, and uniform enforcement of electrical system installations based on North American principles and practices.
To be effective, an electrical installation code must be suitable for the existing electrical infrastructure, be suitable for the electrical safety system employed in a country, and be capable of being uniformly interpreted, applied, and enforced. It must also have compatibility with standards applicable to products whose installation, use, and maintenance is intended to be governed by the code.
In summary, the following can be stated about the documents:
IEC 60364 and the NEC both establish performance requirements that address fire and electric shock protection, i.e. protection of persons and property.
Both documents address installation, use, and maintenance of premises wiring systems and equipment.
Both documents are applicable to wiring systems of premises for residential, commercial, and industrial use. Hazardous locations (explosive atmospheres) are covered only in the NEC; they are covered separately in IEC 60079.
Neither document covers installations for generation, transmission, or distribution of electrical energy, nor those under exclusive control of electric or communications utilities.
IEC 60364 provides broad performance requirements and it is not usable as an installation document by electrical system designers, installers, or enforcing authorities, but rather it can serve as a guide for development of national wiring rules.
The NEC is a comprehensive set of electrical installation requirements that can be adopted and implemented without development of additional wiring rules.
Countries adopting IEC 60364 in whole, or only Chapter 13 on Fundamental Principles, need to develop additional rules usable by electrical system designers, installers, and enforcing authorities.
Both codes need effective coordination with appropriate product standards to be successful in implementing electrical safety.
Safety in Collaborative Robotics
There is no "Collaborative Robot". That is one of the first statements you hear from people working in Collaborative Robotics. The reason is because...