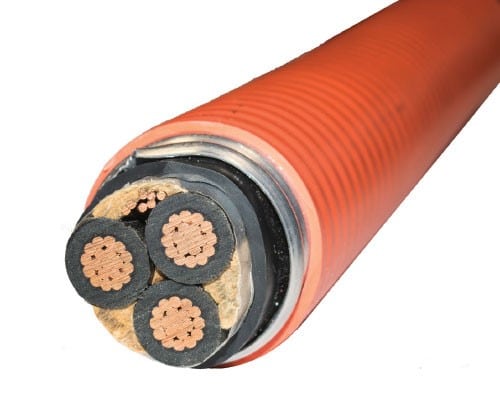 The new definition for the word "cable" resulted in a revised definition for the word "conductor" and new definitions for "bare conductor", "covered conductor", "insulated conductor", "jacket", and "wire". The definitions now read:
"Conductor" – a conductive material that is constructed for the purpose of carrying electric current.
"Bare conductor" – a conductor having no covering or electrical insulation. These conductors would typically be used for bonding and grounding.
"Covered conductor" – a conductor covered with a dielectric material having no rated dielectric strength. Covered conductors are typically used inside distribution equipment and for overhead high voltage installations.
"Insulated conductor" – a conductor covered with a dielectric material having a rated dielectric strength.
"Cable" – a complete manufactured assembly of one or more insulated conductors which may also include optical fibres, fillers, strength members, insulating and protective material, having a continuous overall covering providing electrical, mechanical and environmental protection to the assembly.
"Jacket" – a non-metallic covering on a cable which provides mechanical and environmental protection for the cable.
"Wire" – see "Conductor."
The rationale for these new definitions was to provide separate dedicated definitions in order to recognize the specific differences between conductors and cables. The reworded definition of conductor is now limited to the conductive material (aluminum, copper, etc.) used to carrying electric current.